A physician goes from seeing a few patients one day a week to owning two thriving medical clinics.
Medical Weight Loss Marketing Case Study 01
When a physician contacted Clinic Marketing Group (CMG), the situation was dire. He was seeing a few patients each week in a rented office. After listening to deceptive SEO salespeople and hiring an expensive branding agency, the practice was out tens of thousands, with no uptick in new patient calls. So, we got to work.
These results are not typical for most medical practices, and there is no guarantee that these results can be repeated for your medical practice. Most medical practices are not willing to adjust their in office procedures, properly train their staff, create offers, ask patients for reviews or follow proven industry best marketing practices. We have changed the names and details about the practices to protect the privacy of our clients. The annual number of new calls and the value of these new patients for each practice are estimated based on monthly calls from new patients.
INITIAL CONSULTATION
During the initial consultation, it was clear that this doctor had no marketing plan, no approach for seeking referrals, and no protocol for welcoming new patients. He didn't have a functional understanding of how to use social media and grow his practice.
Radical changes in digital marketing and consumer behavior have left many doctors like this one stranded. Over 97% of people who seek healthcare services search online before making a decision. Once the doctor understood that, without an online presence, his practice didn't exist, he was ready for change.
HOW WE SOLVED IT
Clinic Marketing Group went full throttle on a comprehensive digital marketing strategy, pulling new people in and inspiring them to take action by scheduling a medical weight loss appointment.
We built a modest, well-organized website, and followed up with a comprehensive social media assault. We invested in both traffic driven and special offer campaigns. We also launched a Reputation Marketing effort so patients could submit positive reviews and create an aura of trust.
These efforts didn't just generate traffic; they generated new patient calls, about 400 every month.
REPUTATION MARKETING
Studies show that people trust the information they find online. But, for a medical practice that online presence must be impeccable. That's what our Reputation Marketing service does; it creates a sense of professionalism, combined with compassion.
CMG coached the doctor's new staff on how to ask for patient reviews and provided branded Review Request cards to hand out, making it easier. In addition to influencing a better ranking, the positive reviews this doctor receives tells newcomers that this is a medical practice they can trust.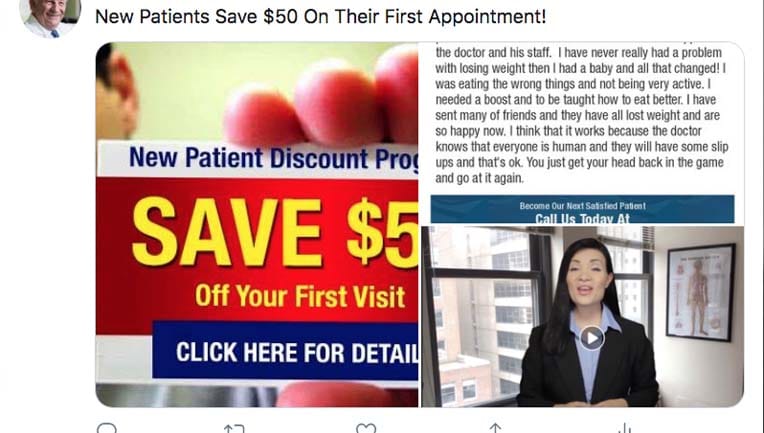 ENGAGING SOCIAL MEDIA
Activity-based marketing is vastly different from a comprehensive social media plan. The first earns you a few "likes" on Facebook, the second pushes your practice to the top of search results and brings in new business.
Clinic Marketing Group created a wealth of new, original content for the practice, and syndicated it widely. The doctor's listing has positive patient reviews, videos, and gets seen by thousands of potential new patients living in his region, every day.
DOMINATING TRAFFIC CAMPAIGNS
Our campaigns for the practice incorporate carefully identified key phrases, words that people use to search for weight loss services every day. We have a vast network of media outlets and platforms, all hungry for new content that people will click-on to learn more. The website is well-organized, inspires trust, and triggers visitors to act. The practice has seen an increase of about 25% to 33% in new patient calls every month.
CMG writes compelling copy, informative blog posts, and we produce and publish video testimonials. Potential new patients find plenty of reasons to call this practice for medical weight loss support. Digital marketing like this does work, and we have the Success Metrics to prove it.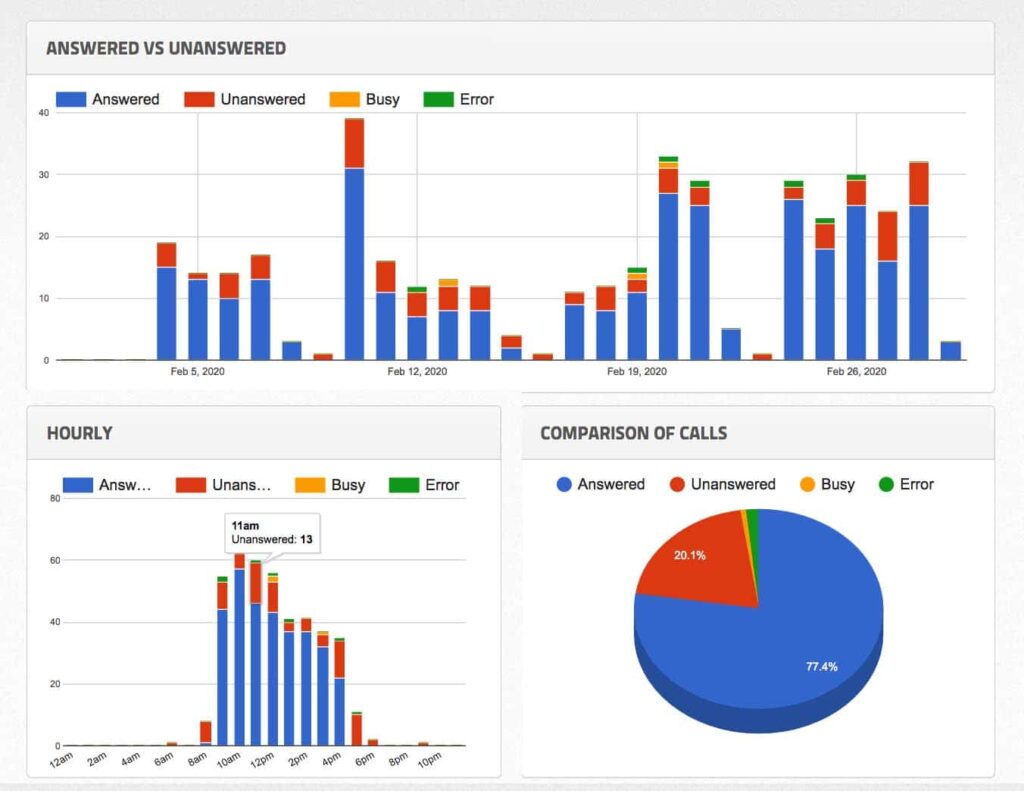 ADVANCED CALL ANALYTICS
This practice spent so many years without new patient calls; the office wasn't ready to handle them or provide an excellent customer experience.
So, we sent a script and coached staff on how to shift from giving information to asking for appointments. We helped them streamline patient scheduling and analyze what each new patient was worth to the practice overall. Their conversion rate and retention rate increased drastically once these changes were implemented. Not only did this doctor's patient flow increase, so did his profitability.
This medical weight loss marketing case study was first published here: https://clinicmarketinggroup.com/case-study-01/
Schedule a Marketing Consultation Today
Tim McGarvey ( https://timmcgarvey.com ) is a marketing consultant who helps business owners market their business and services on the internet. To find out how your business can use the internet to attract more customers, call (646) 791-1993 and schedule a marketing consultation.